ARINC 818-2 standard: In the aircraft, a growing amount of information is given in the form of photographs, which passes through a complex video system before reaching the display in the cockpit and crew.Infrared and other wavelength sensors, optical cameras, radars, flight recorders, map/chart systems, synthetic sights, image integration systems, multifunctional head-up, and heads-down displays, video concentrations, or other subsystems are among the video systems available.ARINC 818 is the encoded 8B/10B point-to-point protocol for video and data serial transmission.The
ARINC
Protocol is packaged, video-centered, and very versatile, allowing the multiplexing of multiple video streams on one single link. ARINC 818 (ADVB) is a unidirectional protocol that does not require any handshakes.
ARINC 818
has 15 defined speeds, ranging from 1 to 28 gigabits per second.  The ARINC 818 specification was modified in December 2013, and ARINC 818-2 was issued, with new capabilities such as link rates up to 32X fiber channel rates, channel bonding, switching, field sequential colour, bi-directional control, and data-only links.An Interface Control Document is required for each ADVB project (ICD). As described in one of the
White Papers
on ARINC 818, the ICD, which is shared by all project members, ensures compatibility, minimises implementation time.
Related Read: ARINC: The Ultimate Guide To Modern Avionics Protocol 
The ICD defines link parameters including link speed, image resolution, synchronization scheme, frame rate, and so on. Two systems of ARINC 818 will not be compatible if they aren't built on the same ICD component. Generally, there will be an ICD associated with a military program or commercial avionics development.Although simplified, ADVB maintains Fibre Channel attributes that support vital mission video applications, such as high speed, high reliability, low latency, and flexibility.To merge images in real-time, such as symbology or cursors, all the imagery must be uncompressed while overlaying digital map images or real-time videos. The key updates and the new provisions that are added to the ARINC 818-2 standard are collected and referred from
WHAT'S NEW IN ARINC 818 SUPPLEMENT 2
ARINC 818-2 standard, Characteristics and updates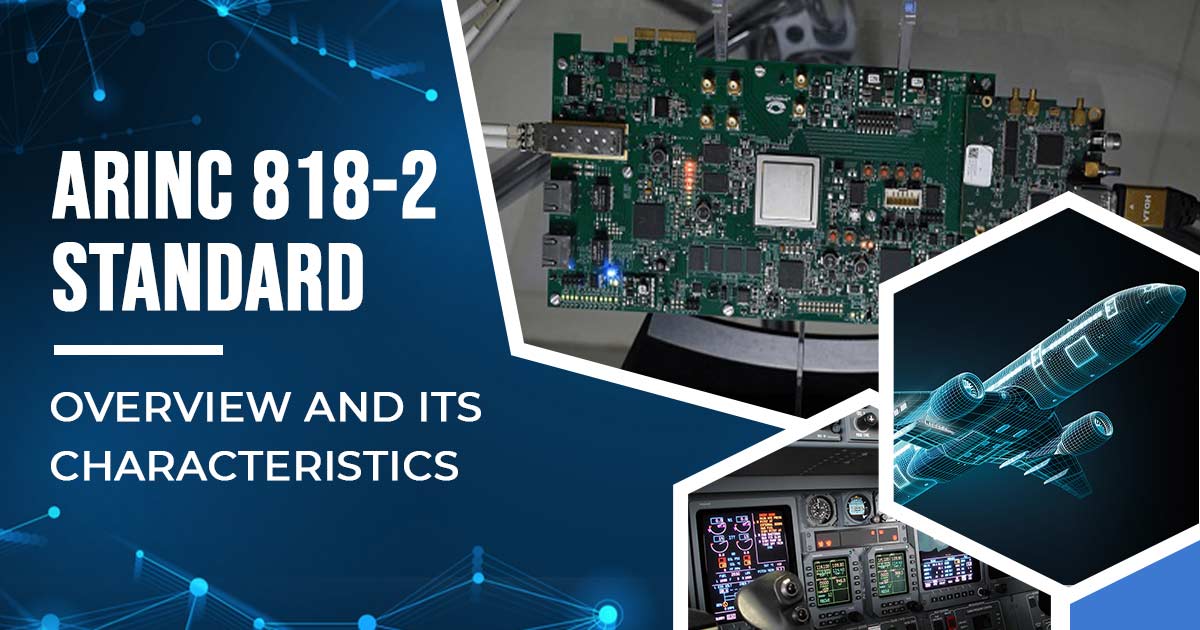 Bandwidth:
At the time ARINC 818 was ratified, the fiber-channel protocol supported link rates of 1.0625, 2.125, 4.25, and 8.5 Gigabits per second (Gbps). Since then, link rates of 14.025 and 28.05 Gbps have been released with even higher speeds planned to meet market demand.Rates of 5.0, 6.375 (FC 6x), 12.75 (FC 12x), 14.025 (FC 16x), 21.0375 (FC 24x), and 28.05 (FC 32x) Gb/s were added by ARINC 818-2. The 6x, 12x, and 24x speeds were added to accommodate the usage of high-speed, bi-directional coax as a physical medium with power. The ability to specify non-standard link rates for bi-directional return channels for applications such as camera control, when high-speed video communications are not required, was also added to the specification.Related Read:
A Designer's practical guide to ARINC 429 standard specification
Switching:
The ARINC 818 protocol was created as a point-to-point communication system. Switching has grown increasingly critical as many recent ARINC 818 implementations have numerous displays and/or many ARINC 818 channels (10 or more). Only a few strict requirements were established in the specification to assure interoperability.It merely provided direction in handling other elements through the project ICD to reach the goal of flexibility.ARINC 818 containers have source and destination IDs due to Fiber Channel heritage. It is conceivable to route based on those addresses, albeit this would be difficult to achieve in the case of data or music since the container size may change and latency becomes too high before the payload is completed.Related Read:
Take a step ahead with an upgrade to ARINC 818 Revision 3 Avionics Digital Video Bus
Compression and Encryption:
The initial intention of ARINC 818 was to convey solely uncompressed video and audio. The necessity to compress and/or encrypt a link was driven by applications like high-resolution sensors, UAV/UAS with bandwidth-limited downlinks, and data-only applications. Only flags indicating whether the payload (audio, video, or data) was encrypted, compressed, or both were included in the ARINC 818 containers.The Interface Control Document (ICD) for each project describes the implementation specifics, in keeping with the ARINC 818 principle of maximum flexibility.Related Read:
ARINC 629 Digital Data Bus Specifications
Channel Bonding:
ARINC 818-2 enables many parallel lines to circumvent the bandwidth restrictions of FPGAs. The video frame is split into smaller chunks and sent via two or more channels. The ICD solves latency and skew between the links, and each link must transmit a complete ADVB frame with a header.For example, as one of those described on
Aviation Today
, at 60 Hz, a WQXGA (2560 x 1600 pixels) image with 24-bit colour depth would take 737,280,000 B/s of bandwidth. This image might be split and sent over two ARINC 818 4.25 Gbps lines using channel bonding. The manner of re-splitting the video is determined by the ICD for that project.Related Read:
End System Design Parameters of the ARINC 664 part 7
Data-only Links:
Typically, data-only links are utilised as command-and-control channels. The video stream could be carried by a standard ARINC 818 link from a camera or sensor, for example. To execute functions like focus or white balance, a data-only link would be sent to the camera.Data-only links are supported by ARINC 818-2, which are commonly used in command-and-control channels, such as those required for bi-directional camera interfaces. The ICD may specify a standard link rate or a non-standard rate for these.Related Read: AFDX®:
A Time-Deterministic application of ARINC 664 part 7
Field Sequential Color:
More than simply the standard primary colours can be broadcast using the field sequential colour mode, which sends each colour component in its own container. To accommodate field sequential colour, a video format code was introduced. Each colour component is normally sent in its container when using the colour field-sequential mode.Today, new LCD technologies are leveraging it for less expensive displays that don't require colour filters, as well as for transparent, wearable displays like head or helmet-mounted displays.
Bi-directional Camera Interfaces:
In this scenario, a bit is provided to indicate that the container is a sync marker and that the video channel should synchronize on the Start of Frame Initiate (SOFi) symbol. This enables the packet to be used to synchronise several cameras, making operations like merging and blending more convenient. Although a bi-directional camera interface is essentially a data-only link, it was considered that some guidance for these implementations should be included.
CRC Calculation:
The accurate determination of the preceding image CRC was one of the more difficult implementation difficulties with ARINC 818-1. The CRC computation is complicated, and it's simple to make mistakes when doing it. A thorough example of each step in the
Image CRC computation
has been added to the specification and it can be referred to on arinc818.com
Applications
Although ARINC 818 was designed for avionics, it is already being utilised in sensor fusion applications, where many sensor outputs are multiplexed onto a single high-speed channel. ARINC now supports approximately 15,000 airplanes, 300 airlines, 150 airports, and 200 train systems, as well as more than half of North America's nuclear power facilities and other critical infrastructure.For high-performance video systems, it is the proven commercial standard as well as the military's de-facto standard. ARINC 818 is used in avionics projects in Brazil, Canada, China, France, India, Israel, Russia, South Korea, Turkey, and the United Kingdom, as well as the Airbus A400M and A350XWB, Boeing 787, and KC-46A tanker.