The Field Programmable Gate Array (FPGA) industry is expected to grow in the coming years as more military and aerospace applications, such as waveform generation, image processing, and secure communication, adopt FPGAs.
Demand for FPGA is expected to increase due to increased adoption in areas such as security, network processing, and Deep Packet Inspection (DPI).
This article covers the elucidated overview of one of the reports on the FPGA market Forecast till 2027, by Market Research Future (MRFR). According to the report, "The global FPGA market was worth USD 9.0 billion in 2018 and is estimated to develop at a Compound Annual Growth Rate (CAGR) of 9.7% from 2020 to 2027."
The growing need for higher bandwidth at a low cost and low power generates advanced embedded FPGA architecture opportunities.
They are commonly used for applications that include streaming, data processing, and heavy data flow because they have low power consumption and high computing density.
In recent years, FPGA-based accelerators have advanced as strong contenders to the conventional GPU-based accelerators in modern high-performance cloud and edge computing systems.
The use of High-Level Synthesis (HLS) allows developers, using high-level languages, e.g. C, C++, SystemC, and OpenCL, to precisely configure FPGA.
What is something that makes these devices such a favorite of everyone?
What is an FPGA or how does one define an FPGA?
"FPGAs are semiconductor devices that are built around a matrix of configurable logic blocks (CLBs) connected via programmable interconnects", according to the definition on the Xilinx website. After production, FPGAs can be reprogrammed to meet specific application or feature specifications.
FPGAs differ from Application-Specific Integrated Circuits (ASICs), which are custom-built for specific design tasks. Although one-time programmable (OTP) FPGAs exist, the most common are SRAM-based devices that can be reprogrammed as the design evolves.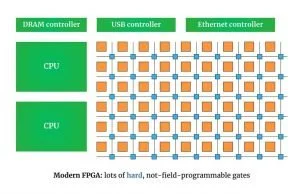 The market and industry are super competitive. When we look at the new industry figures from the major players, Xilinx, Altera, Lattice, and Actel, the point is obvious.
As per one of the reports on marketsandmarkets, "The total logic market is worth $57 billion, according to Xilinx, the industry leader in FPGAs, with ASICs accounting for $14.0 billion, FPGAs for $2.8 billion, other PLDs for $0.5 billion, and other general-purpose logic accounting for $8.5 billion."
The worldwide FPGA market is divided into the categories, technology, application, and region. EEPROM, Antifuse, SRAM, Flash, and other technologies are included in the technology classification.
Data processing, consumer electronics, manufacturing, military & aerospace, automobile, wireless, and others make up the application category.
Which in further can be described as into three types, high-end, mid-end, and low-end FPGA.
The industry is examined in North America, Europe, Asia-Pacific, and Latin America, Middle East, and Africa (LAMEA), based on a geographical analysis.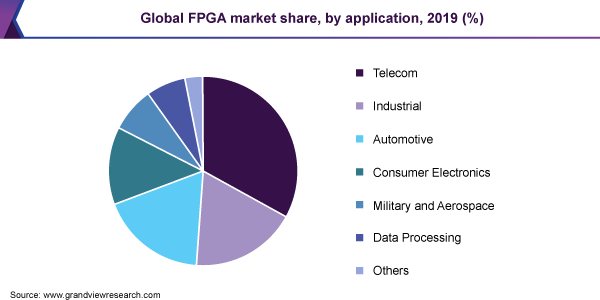 The market is expanding as more cloud customers use FPGAs as an Infrastructure-as-a-Service (IaaS) resource.
Field programming gate arrays are being used by many cloud service providers to speed up network encryption, deep learning, memory caching, webpage scoring, high-frequency trading, and video conversion.
An FPGA coprocessor is used by Amazon, Inc. in the EC2 F1 virtual machine for customer hardware accelerations.
In the same way, Microsoft Corporation uses FPGAs in Azure Machine Learning (ML).
Deep Neural Networks (DNNs) are evaluated, Software Defined Networking (SDN) is accelerated, and Bing search results are ranked using them.
The rise in data center investments is another factor driving demand.
FPGA offerings from Lattice Semiconductor cover a low to mid-range and are geared for low-powered applications that solve network-wide customer challenges, from edge to cloud, in progressively growing communication, computing, automotive, and consumer industries.
The car industry is one of the biggest drivers of customer demand. For vision processing applications requiring high-level processing and fine-grained parallelism, FPGAs are favored by designers of Advanced Driver Assistance Systems (ADAS). I
n November 2019, Xilinx, Inc. unveiled 16-nm FinFET+ automotive-qualified circuits aimed at ADAS and self-driving cars. Lattice Semiconductor, the low-power programmable pioneer, earlier this year, announced new FPGAs for automotive applications such as ADAS and In-Vehicle Infotainment (IVI) systems to the award-winning Lattice CrossLink-NX family.
In November 2018, Xilinx, Inc. launched the Kintex and Virtex portfolios of defence-grade FPGAs for space and military applications.
These circuits are anti-counterfeiting and have been designed to withstand harsh conditions while also providing safety and reliability. As more countries focus on developing their military establishments, companies are increasingly innovating and designing FPGA for military applications.
FPGAs are used in tactical vehicles such as cameras, radars, and electronic warfare systems to achieve higher coverage, data collection, and electronic countermeasures.
The report mentions, in 2019, the North American regional industry accounted for more than 25% of total revenue.
Mexico is expected to grow rapidly throughout the nation due to its booming automobile industry. The Asia Pacific area accounted for the largest revenue share of the FPGAs market in 2019, and this pattern is projected to continue over the forecast period.
Due to the government's ongoing investments and initiatives to improve the industry's growth, China had the highest revenue share in the world. China, developed a $28.9 billion government-backed semiconductor fund in March 2018 to help the country's chip industry.
There are some constraints and obstacles that will stifle industry expansion.
One constraint may be the embedded field-programmable gate array's high power consumption requirement. In addition, there is a scarcity of uniform industry authentication techniques. As a result, the aforementioned factors will limit the growth of the Embedded Field-Programmable Gate Array market during the forecasted timeframe to some degree. Heterogeneous Data Processing Platforms, of which the computing system consists of SmartNICs, multi-core processors, and hardware accelerators, and the user must choose a complete solution rather than a mix-and-match approach.
Intel, AMD, and Nvidia will also deliver full processing solutions with proprietary accelerators and SmartNICs.
In the embedded device domain, FPGAs will also triumph. Both Xilinx and Intel provide SoC-based FPGAs with ARM cores, which are widely found in embedded applications.
Lattice offers a range of design and verification tool suites, including Lattice Diamond Software, (for CrossLink/CrossLinkPlus, MachXO, and ECP devices) and Lattice Radiant Software, (for iCE FPGAs and future architectures), as well as Lattice Mico, a graphic tool designed for soft microprocessor-based designs.
FPGAs with embedded processors would become the dominant medium for embedded device design, allowing the potential of hardware/software co-design tools to be realized and forcing further growth.
Despite their technical advancements, FPGA designs are 35 times bigger, 3.5 times slower, and use 14 times more power than ASIC designs. As a result, FPGAs are only used in low-volume applications.
The design of new FPGA programming software is the most important field for the future. As programmable devices grow in size, complexity, and contain one or more processors, tools to take advantage of these capabilities and optimize designs are in high demand.
The FPGA industry is expanding both in market share and in innovation.
The modern FPGAs come with advanced technologies and support for high computing speeds, more connectivity options, high-security features, and high bandwidth support.
Logic Fruit Technologies design and develop a broad range of FPGA technology and offers solutions in a wide range of applications ranging from communications, computing, avionics, security, automotive and consumer electronics.
FPGAs are tailored for current industrial applications and market needs, with all these features being present and faster performance available onboard makes them a better choice to include them in an increasing number of applications in the upcoming years.