FPGAs, which stands for Field Programmable Gate arrays, are ICs that are reprogrammable as required.
The circuitry inside an FPGA chip is not hard etched, unlike that of ASICs or graphics processing units (GPUs), and may be reprogrammed as needed.
FPGAs are a suitable replacement for ASIC (application-specific integrated circuit)  since they have these capabilities instead of needing a lot of design and manufacturing time and money.
FPGAs have emerged as a popular choice for deep learning and machine learning applications due to their customizable nature, lower power consumption and low latency offered.
As part of the company's attempts to speed up web searches, Microsoft Research presented one of the early use cases of AI on FPGAs a decade ago.
It combine programmability, speed, and flexibility to perform without the high expense and complexity of creating custom integrated circuits for particular applications (ASICs).
FPGAs are useful for deep learning applications because they are used in Microsoft's Bing search engine. The company claims that by using FPGAs to speed up search ranking, Bing experienced a throughput gain of 50%.
FPGAs can be used to prototype an ASIC and develop customized hardware with built-in AI.
FPGAs are ideally suited for the continuously changing AI world because of their reconfigurable and reprogrammable nature, enabling designers to test algorithms quickly and launch products swiftly.
According to #GlobalMarketInsights, The FPGA market surpassed USD 6 billion in 2021 and is expected to increase at a CAGR of more than 12% from 2022 to 2028. With its huge growth, FPGAs offer a viable and competitive option to traditional standard cell ASIC development by reducing the risk of re-spins, high NRE costs, and time-to-market delays.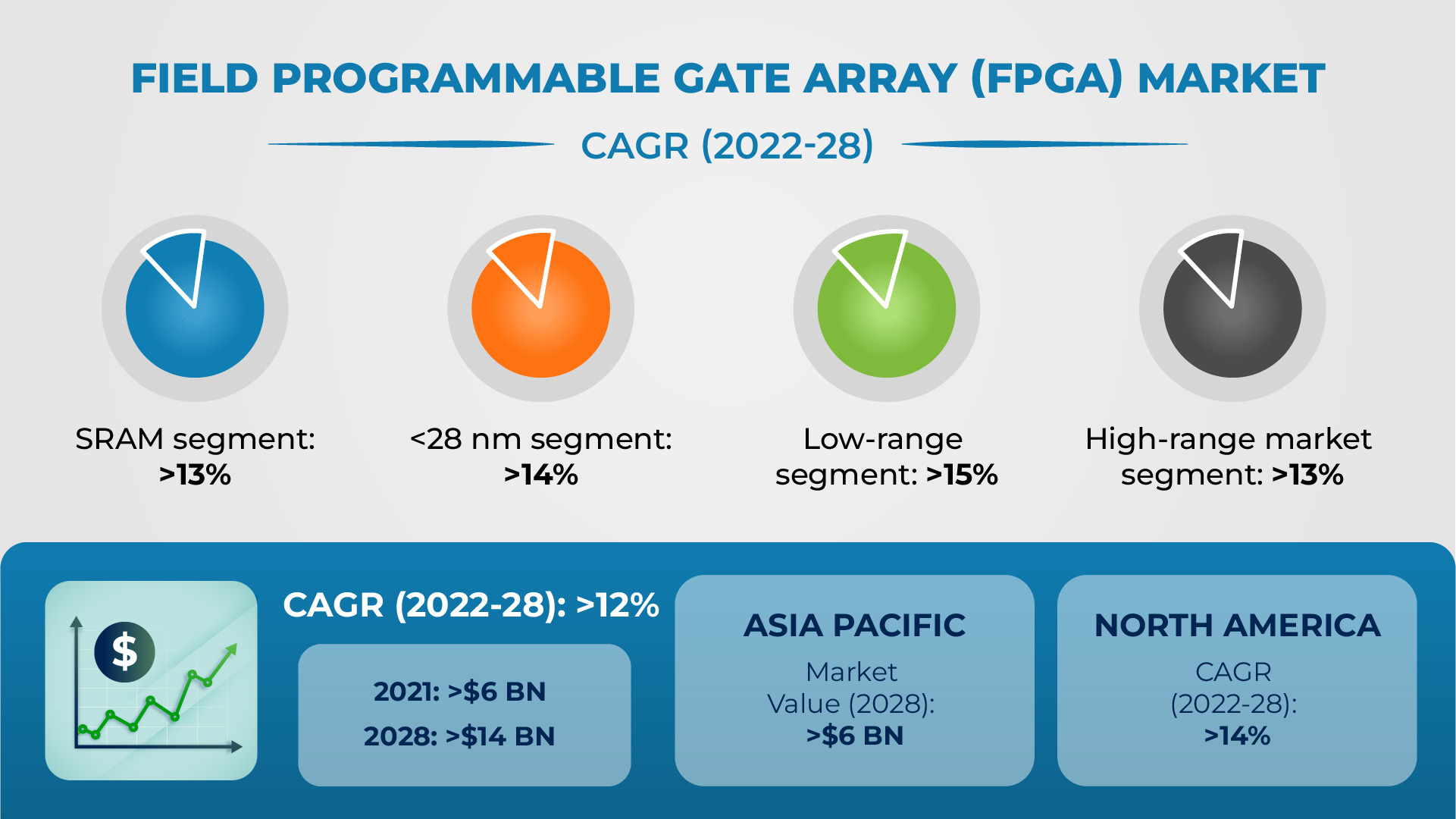 Market Trends of FPGA in 2023
The expanding end uses of FPGAs in numerous sectors, providing distinctive benefits of flexibility, low latency, and security to fulfill complex and changing needs, are driving the market's growth.
To understand the emerging trends in the FPGA market in 2022, Logic Fruit conducted various polls on LinkedIn. In the next section of the article, we will elucidate the results of these surveys.
Impact of acquisitions of the FPGA giants:
With a market share of 50%, Xilinx is the giant programmable chips (FPGA) producer, and Altera, which Intel purchased, is its main rival.
As a result of Intel's robust financial backing, Altera has achieved an unprecedented competitive advantage in the semiconductor industry.
We asked the participants who they think will be most successful this year. In our poll, people heavily favored the alliance of Xilinx and AMD.
The most preferred duo of AMD and Xilinx received the vote of 48% of the participants.
Following them, we have the ARM and NVIDIA alliance which received 27% of the votes. Intel and Altera duo is favored by 19% while 6% don't think any of these duos will be the most successful ones.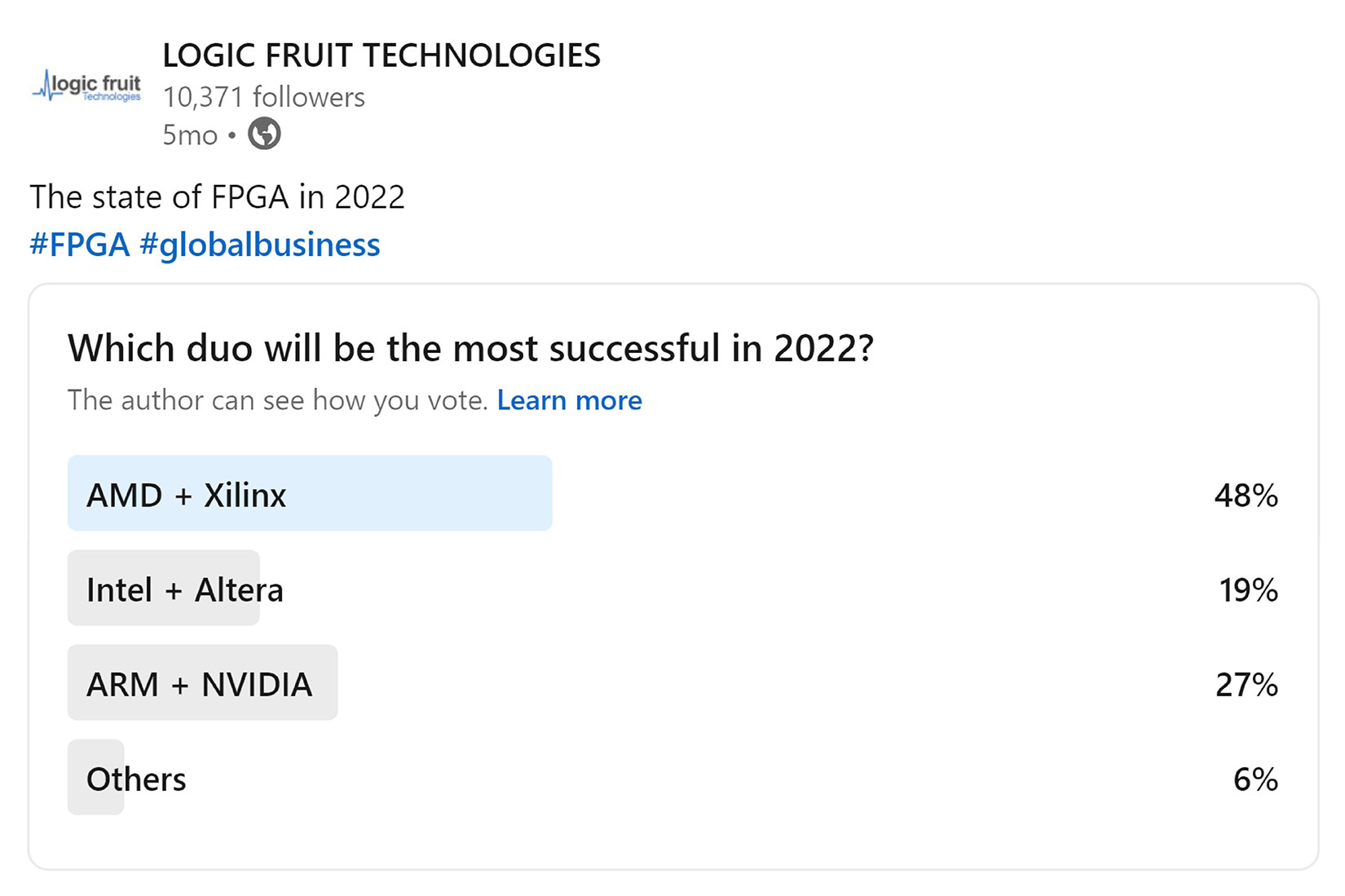 Source: Logic Fruit's Linkedin 
FPGA Adoption by end-use Industries:
FPGAs are utilized in a wide variety of application and end-use industries like Aerospace and Defense, Telecom, Automotive, Video and Image Processing and so on.
We asked the audience which industry they think will have the highest demand for FPGAs.
As per our poll, the Aerospace and Defense industry will lead the trend of FPGA adoption in 2022 with 48% of the participants predicting so.
About 30% of the participants think that the Automotive and Telecom sector will have the highest FPGA demand and 22% of the votes predict that FPGA will find most application in the Video and Image processing domain.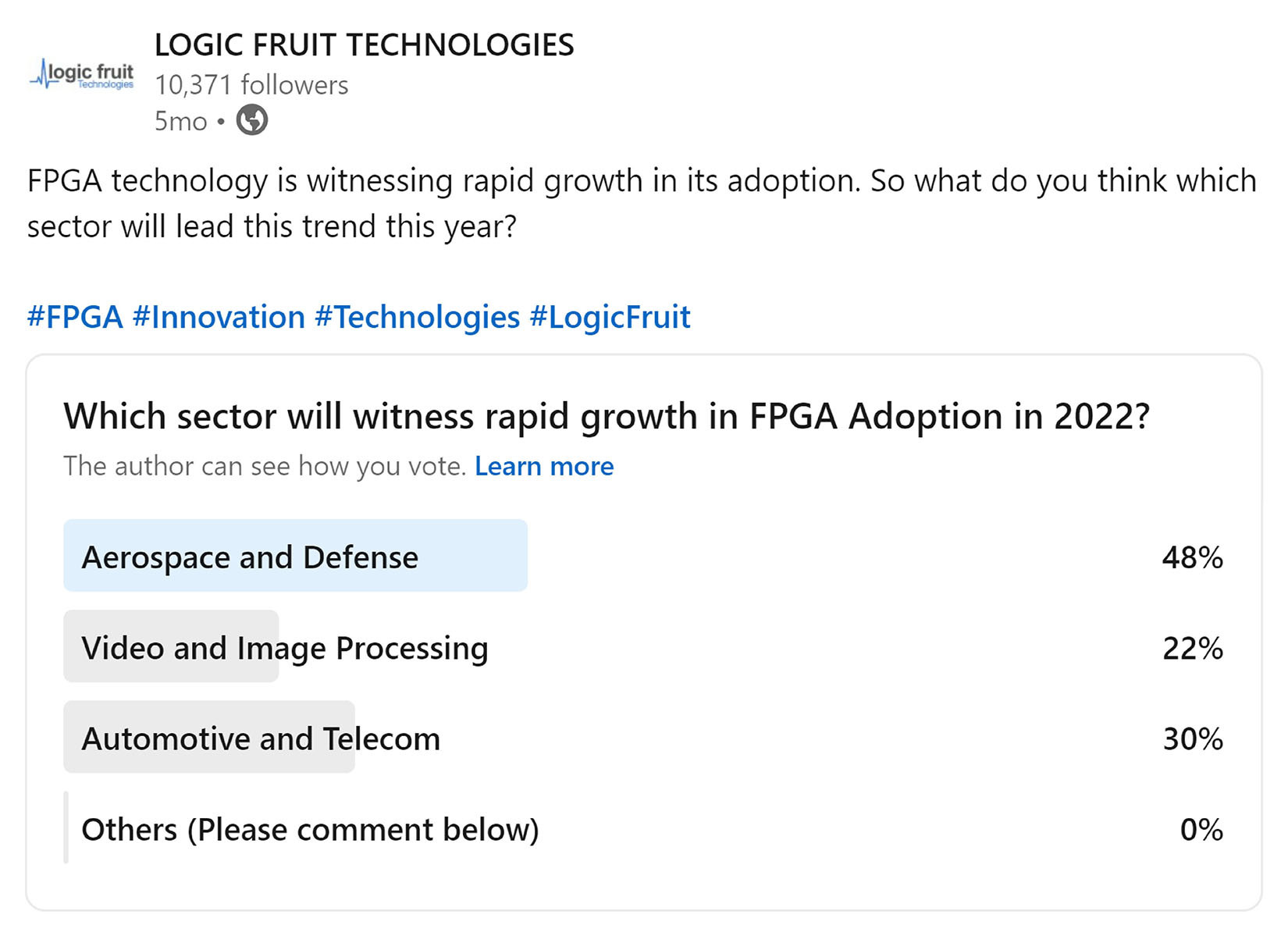 Source: Logic Fruit's Linkedin 
FPGA Adoption by geographical region:
The worldwide Market for FPGA was  valued at 5132.4 million USD in 2020 and is expected to reach 10340 million USD by the end of 2026, growing at a CAGR of 10.4% during 2021-2026.
In terms of geographical markets, historically the region of North America has dominated the FPGA market while APAC is predicted to lead the market during the forecast period.
The growth in the APAC region will be propelled by increasing internet adoption, growth in 4G and 5G technologies, increasing industrial automation and rising adoption of connected devices among other factors.
We asked our participants their opinion on which region will see the most growth in FPGA adoption in 2022.
As per the survey, the leading geographical region in FPGA adoption will be Asia-Pacific with a whopping 78% votes. Only 13% predicted that the North/Latin America region will lead.
Europe received 7% votes, and at the bottom, Middle-East and African region received only 2% votes.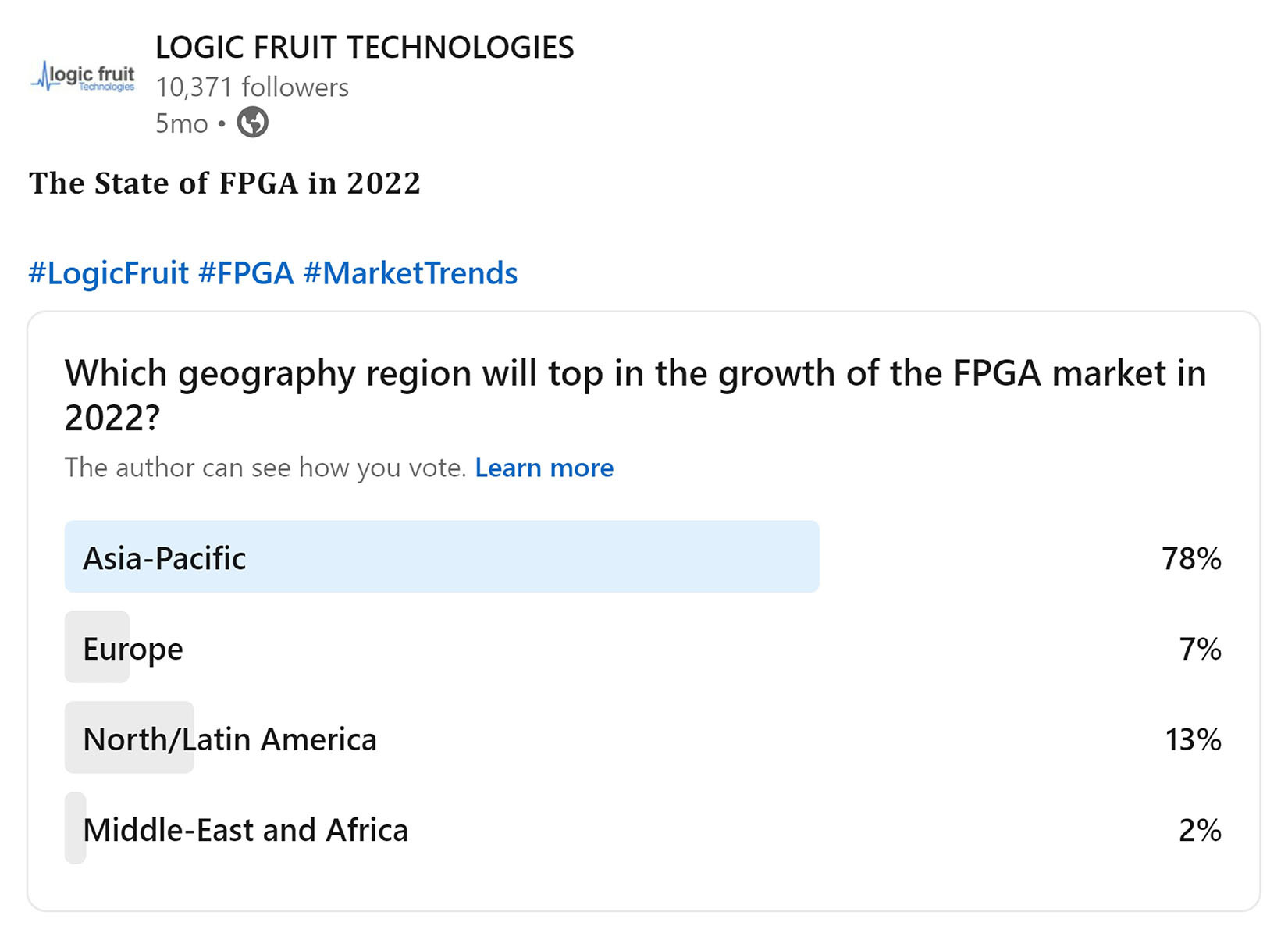 Source: Logic Fruit's Linkedin 
Languages used to program FPGA:
FPGAs are programmed using HDLs which are mostly low-level languages. HDLs like VHDL and Verilog are two of the most popular languages used for programming FPGA.
Hardware and FPGA engineers are the one with expertise in these languages. Most software engineers are unfamiliar with these languages and it limits their ability to build embedded systems using FPGAs.
However, with some of the latest tools developed by FPGA companies, it is no longer an absolute necessity to learn these languages. Now FPGA can be programmed using high level languages like C/C++.
Software developers may program FPGAs using their favourite languages without a solid understanding of HDLs, thanks to the unified software platforms.
As a result, switching to a new programming language is less stressful, and software engineers may be able to concentrate more on concepts than hardware.
These platforms essentially translate higher-level languages into lower-level ones to enable an FPGA to perform the intended job. We asked our participants about their preferred language for FPGA programming.
Our survey revealed that 86% of the people use VHDL/Verilog, followed by C/C++ that is used by 10% of the people. Only 3% use LabVIEW FPGA.
Source: Logic Fruit's Linkedin 
Emerging FPGA applications:
Due to their reprogrammable nature and benefits like low latency, low power consumption, FPGAs find application in wide areas.
From Image and Video processing, encryption/decryption, hardware acceleration, ML/DL model training and inference to Edge computing, there are many applications of FPGA.
We asked our participants which emerging applications of FPGAs will benefit their organizations the most.
FPGA in AI and ML emerged as the most beneficial application with 68% votes. 18% of the people think IoT and Edge applications will be most beneficial while Video Processing and Cybersecurity received 11% and 3% votes respectively.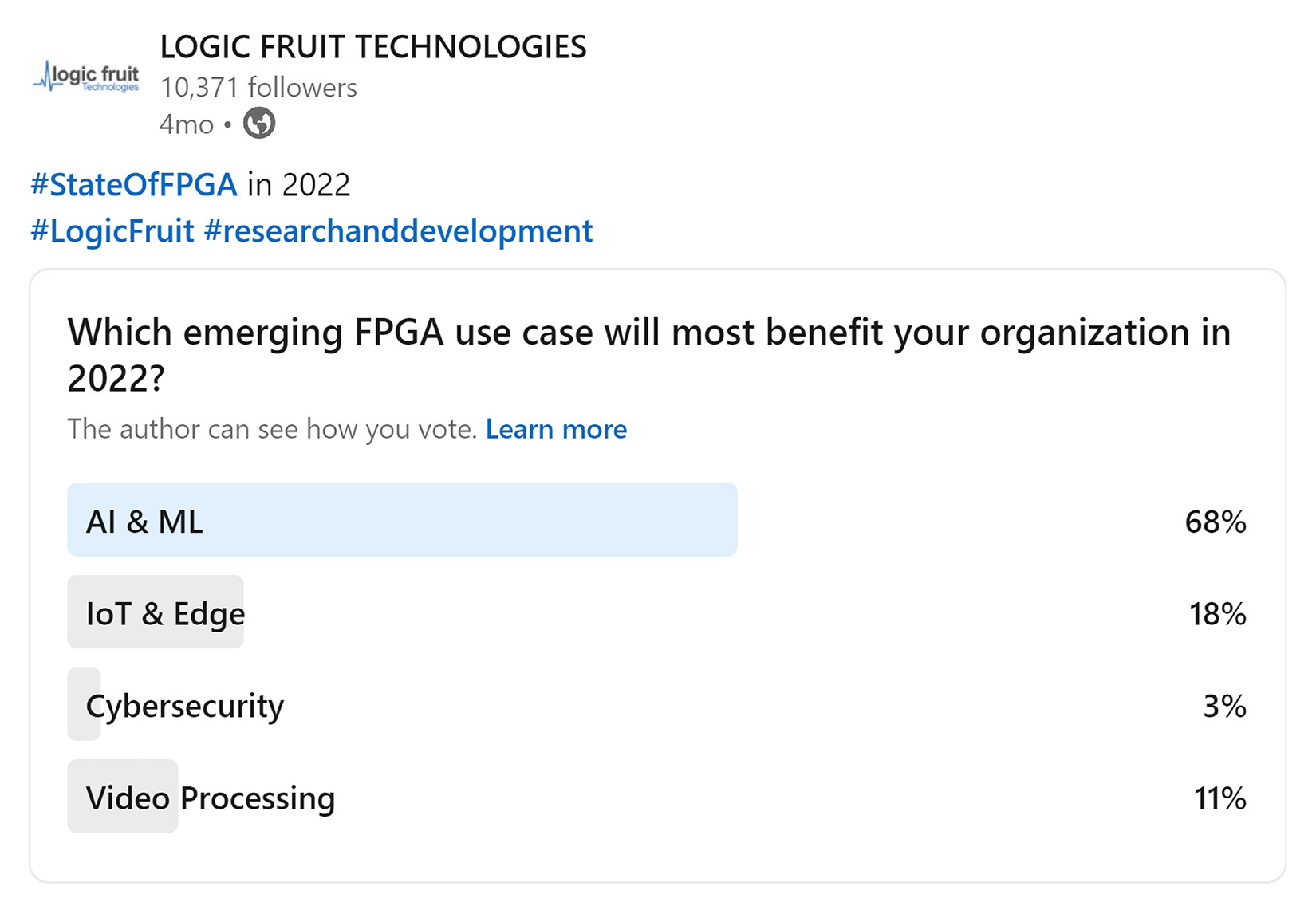 Source: Logic Fruit's Linkedin 
FPGA use cases:
Application Specific Integrated circuits (ASICs) are primarily designed using FPGAs. ASIC design starts with architecture design and then prototype is built and tested.
Often FPGAs are employed in creating these prototypes as a measure to reduce development risks, for quicker validation of the design and to reduce cost because multiple revisions of the prototypes can be done using a single FPGA.
We asked the participants how they use FPGAs in their solutions.  45% of the people use FPGA only for prototyping ASIC or SoC, 12% use them as a target technology  and 38% use FPGAs for both.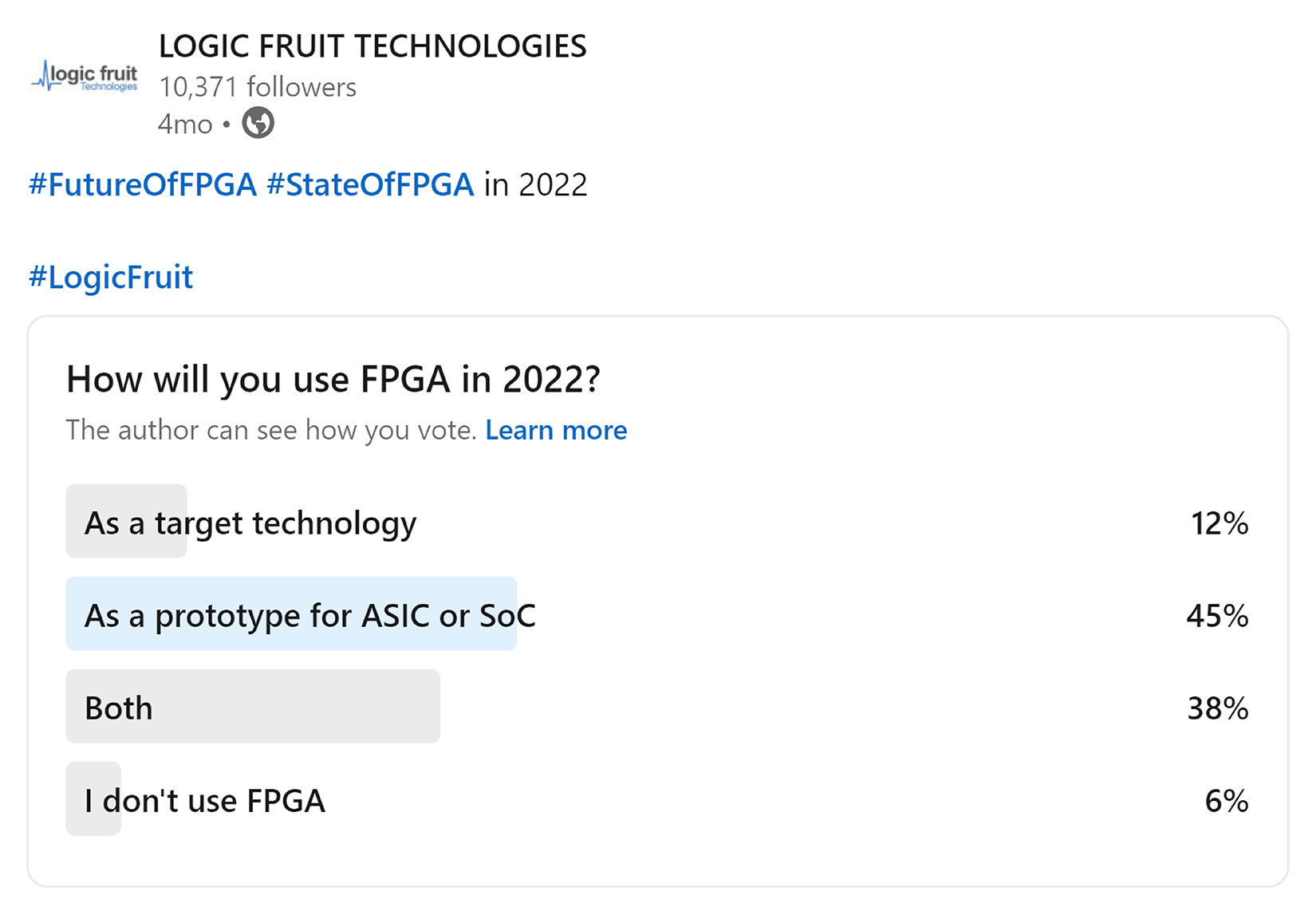 Source: Logic Fruit's Linkedin 
The above given are some of the polls conducted by Logic Fruit Technologies on LinkedIn.
The effect of COVID on markets like data centers and AI/ML is resulting from the increased demand for internet, IT, cloud and other digitized services.
The demand for FPGAs has received a huge boost from this expansion. It is anticipated that this growth will continue in the year  2022 and also in upcoming years too, spreading the influence and significance of FPGAs across a range of end-user sectors.
Logic Fruit Technologies speeds up product development and boost consumer confidence, with their comprehensive knowledge of FPGAs.
We provide end-to-end FPGA solutions that help our customers worldwide to reduce development time and increase final product confidence with proven technology.
Our Product Engineering Team has extensive experience working with all the most recent FPGAs from leading global suppliers to provide FPGA Design Services.
High-quality, real-time, and high throughput embedded systems based on FPGA are something we can design, implement, and validate.
We also have alliances with other significant FPGA vendors, which enables us to stay abreast of current industry developments, receive thorough technical assistance, and offer solutions for the most recent products from the top vendors.
Our goal at Logic Fruit is to swiftly introduce and update products and solutions using FPGAs in order to satisfy our customers' dynamic requirements.